Our Dog Grooming Service in the heart of Derbyshire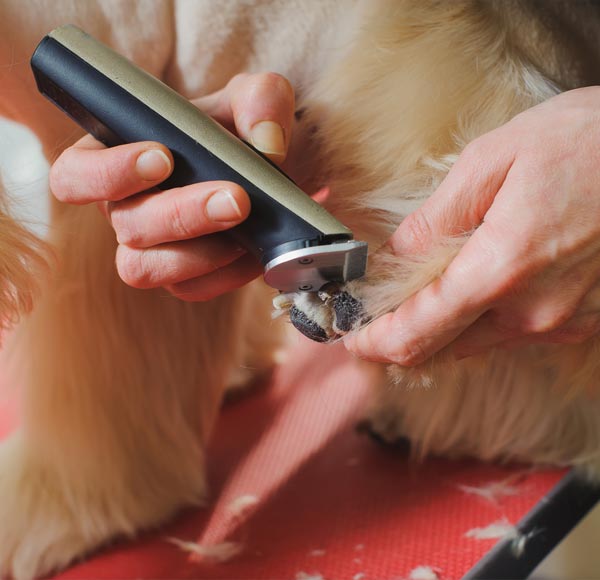 I am happy to take on dogs whatever their temperament as I believe all dogs can be groomed with the right approach and kindness. All I ask is to please warn me when booking if your dog may show any of these signs, that way I can approach him/her with caution. I have muzzles but have never use them yet, I have experienced growling, grumbles and snappy but have managed to calm them down; and of course my main concern a HAPPY DOG!
Pre-Groom Health Check
A pre-groom health check of ears, eyes, nose, teeth, gums, skin, coats, paws, nails and genitals. Any abnormalities found other than previously known will be notified to the owner and documented on the client's grooming record for health history (Client Record). The health check will be carried out at every visit prior to commencement of any grooming service.
sMARTs Professional Dog Grooming Client Record »
Full Groom
Brush out to remove mats or knots, ear clean/pluck if required, feet and nail trim, hydro bath, blow dry, styled to your and dog requirements (clipping or scissoring). Plus a finishing sprays. On completion your dog will be handed back to you feeling, looking and smelling gorgeous! Each groom takes on average, 1 – 3 hours for most dogs, although my theory is it takes as long as it takes, some dogs do need more time especially if they are nervous, elderly.
Hand Stripping
Brush, hand strip, nails clipped and ear cleaned if required, bath and blow dry. Scissor styled & trimmed as required. This treatment is offered for those terriers and spaniel breeds which have not been previously clipped and are routinely hand stripped. This is a labour intensive and time consuming process and as such is a much more expensive service. Hand stripping is suggested approximately every 4 – 6 months.
The Benefits of Regular Grooming »
Puppy's First Groom
Once your puppy has been introduced to the grooming environment they will be ready for their first groom at 20 weeks. All dogs need to be vaccinated and with proof of annual up-to-date boosters to ensure your dogs and other dogs that visit the salon complete protection against the spreading of harmful viruses.
Assistance Dogs, including Military & Police Dogs
Grooming assistance & forces dogs will be provided free of charge. All I ask for is travel expense.
Anal Glands
I don't do anal glands emptied – leave it to the vets. The Royal College of Veterinary Surgeons (RCVS) have requested that groomers do not express anal glands as this would involve diagnosis (see Veterinary Surgeons Act)
Doggy treats are available throughout the groom.